Holiday Instrumentals From the WOOniverse!!
A collection of holiday standards with a sound uniquely WOO. The instrumental tracks on "Christmas WOO" from Bernie Worrell make a great alternative to the classic tunes of the holidays.
On April 25, 2023 courts denied the motion to dismiss put forward by lawyers of George Clinton and Thang Inc. This means the case to reclaim Bernie's royalties will move forward. Read the full court document below:
New Music Coming in 2023!
We are super excited, but can't share the details yet! New, unheard music from Bernie Worrell is on the horizon! Stay tuned for a new single to be released along with the pre-release for an all-new volume of Bernie's music! 
"WOO for You" @ the Smithsonian
A new installation at the Smithsonian Institution coming up in March, 2023 will be prominently featuring Bernie Worrell. Keep your eyes peeled for more news on this as we get closer to the date! 
Follow Bernie on Instagram
For the most current updates, the Official Instagram for Bernie Worrell is the place to be. Follow along and stay in the loop. 
Bernie Worrell - Solo Albums
Click on Titles to Download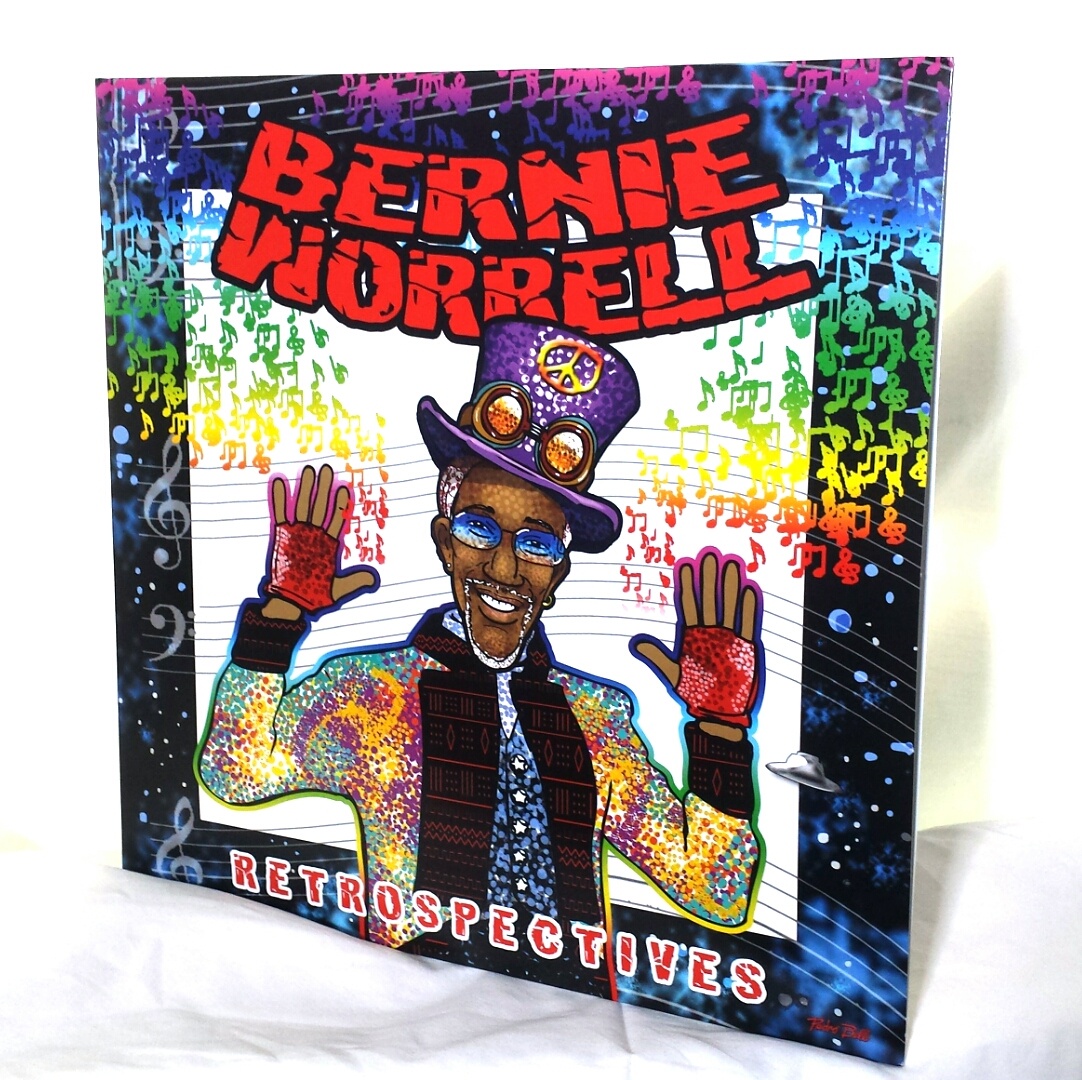 Bernie's gift to his biggest fans, an all-instrumental collection of favorites from "Joyfull Process" to "Flashlight" is available on Double-LP
Translating from "together" in the Tlingit language, "wooch" also echoes the "WOO" philosophy of Khu.éex' co-founder, the legendary Bernie Worrell, (keyboardist and original member of Parliament-Funkadelic) in which he wished to use music to bring people together through sound. 
Focusing on the concept of the Alaska Native communities' shared experiences,  the album explores the connection between historical and contemporary issues and intergenerational strength in the face of trauma. 
"WOOch" also represents Bernie Worrell's final major studio project before his passing 3 months following the beginning if these sessions.  Bernie's playing reflected profound depth and power in the face of his cancer battle. 
Produced by Randall Dunn (renowned for his work with Sunn O))), Earth, and Jóhann Jóhannsson), "WOOch" is Khu.éex's most expansive work yet, ranging stylistically from Funk to Spiritual Jazz to Americana to Drone Metal. 
"WOOch" features Bernie Worrell (Keyboards), Preston Singletary (Bass), Captain Raab (Guitar), Gene Tagaban (vocals, spoken word, flute), Nahaan (spoken word, vocals), Skerik (Sax and horn arrangements), Hans Teuber (horns, flutes), Stephen Nistor (Drums, percussion), Denny Stern (percussion), Indrayani Ananda and Carly Kienow (vocals), and Tim Kennedy (keyboards). Special featured guests: Qacung (Y'upic vocals) acclaimed singer and co-founder of Pamyua, Eyvind Kang (Viola), and Jay Kardong (pedal steel). 
2000s
2009 Bernie Worrell – Christmas WOO

2008 Burning Spear – Jah is Real
2008 Activities of Dust – A New Mind
2008 Science Faction – Living on Another Frequency
2008 Praxis – Profanation
2007 Baby the Elephant – Turn My Teeth
2007 Praxis – Tennesee 2004
2007 Shin Terai – Lightyears
2007 Various Artists – Superbad (Soundtrack)
2006 Gigi – Gold & Wax
2005 Buddy Guy – Title unknown [Sessions in 03/05]
2005 Jason Miles – Miles to Miles
2004 O.A.R. – Title unknown [Session in 12/04: Bernie did the two tracks for this album which were produced by Jerry Harrison]
2004 Zigaboo Modeliste – I'm On The Right Track
2004 Mandeng Eletrik – Mandeng Eletrik
2004 Various Artists – Undercover
2004 Various Artists – Boogaloo To The Beastie
2004 John Hickey Band – "Down With The Ship"
2004 Shine – Heaven and Hell
2004 Eddie Hazel – Game Dames and Guitar Thangs [Bonus Tracks]
2004 Bootsy Collins – Play With Bootsy
2004 Colonel Claypool's Bucket of Bernie Brains – The Big Eyeball In The Sky
2004 Mos Def – The New Danger
2003 Gov't Mule – Deepest End: Live in Concert
2003 Fins – Bluesprints
2003 Parliament – Mothership Connection [Bonus Tracks]
2003 Parliament – Chocolate City [Bonus Tracks]
2003 Parliament – Up for the Down Stroke [Bonus Tracks]
2003 George Clinton – Six Degrees of P-Funk: The Best of George Clinton & His Funky Family
2003 Talking Heads – Once in a Lifetime [Box Set]
2003 Spinners – Chrome Collection
2003 Freekbass – Air Is Fresher Underground
2003 Simply Red – Home
2003 Jack Bruce – More Jack Than God
2002 Manu Dibango – Electric Africa
2002 Jon Spencer Blues Explosion – Fang Plastique
2002 Zapp & Roger – We Can Make You Dance: The Zapp & Roger Anthology
2002 Funkadelic – Toys
2002 Parliament – Funked Up: The Very Best Of (Remastered)
2002 Angélique Kidjo – Black Ivory Soul
2002 Woodentops – Wooden Foot Cops on the Highway [Bonus Tracks]
2002 Ida – Shhh…
2002 Matthew Sweet – To Understand: The Early Recordings of Matthew Sweet
2002 Jon Spencer Blues Explosion – Plastic Fang
2002 Joe Stuby and Rocking Horse – Cosmic Soul
2002 Bernie Worrell & The WOO Warriors – True DAT
2002 Golden Palominos – Run Pony Run: An Essential Collection
2002 Gov't Mule – Live…With a Little Help from Our Friends
2002 Gov't Mule – The Deep End Volume 2 (Enhanced)
2001 Gov't Mule – The Deep End Volume 1
2001 Vinyl – Flea Market
2001 Bill Laswell – Filmtracks 2000
2001 James Blood Ulmer – Blue Blood
2001 Bootsy Collins – Glory B da' Funk's on Me!: The Bootsy Collins Anthology
2001 Deee-Lite – Very Best of Deee-Lite
2001 Tom Tom Club – Good, the Bad and the Funky [Bonus Track]
2001 T.M. Stevens – Shocka Zooloo: T.M. Stevens Live
2000 Funkadelic – Funk Gets Stronger
2000 Shin Terai – Unison
2000 Robert Musso – Innermedium
2000 Various Artists – Ethnic 2000, Vol. 2
2000 Ida – Will You Find Me
2000 Stir Fried – Last of the Blue Diamond Miners
2000 Spin Doctors – Just Go Ahead Now: A Retrospective
2000 Eddie Hazel – Rest in P
2000 Parliament 20th Century Masters – The Millennium Collection: The Best of Parliament
2000 Johnnie Taylor – Lifetime
2000 Tom Tom Club – Good, the Bad and the Funky
1990s
1999 O'Jays – Year 2000/My Favorite Person
1999 Nona Hendryx – Transformation: The Best of Nona Hendryx
1999 Gwen Guthrie – Ultimate Collection
1999 Gov't Mule – Live…With a Little Help from Our Friends
1999 T.M. Stevens – Radioactive
1999 Herb Alpert – Colors
1999 Space Cadets – Da Bomb
1999 Fred Wesley – Full Circle: From Be Bop to Hip-Hop
1999 Doug Wimbush – Trippy Notes for Bass
1999 Gwen Guthrie – Ultimate Collection
1999 Material – Intonarumori
1999 Bijou Phillips – I'd Rather Eat Glass
1999 Pharoah Sanders – Save Our Children
1999 Various Artists – 4 the Club Headz, Vol. 1
1998 P-Funk Guitar Army – Tribute to Jimi Hendrix
1998 Various Artists – Guitar Zone
1998 Various Artists – Martini Grooves
1998 Bobby Womack – At Home in Muscle Shoals
1998 Bill Laswell & Sacred System – Sacred System: Nagual Site
1998 Rita Coolidge – Collection
1998 Bernie Worrell & The WOO Warriors – Live
1998 Fela Kuti – Afrobeat
1997 Devotees – Gimme Gimme
1997 Third Rail – South Delta Space Age
1997 Golden Palominos – Best of the Golden Palominos
1997 Pharoah Sanders – Message From Home
1997 Nicole – Renee
1997 Tamio Okuda – Fail Box
1997 Bernie Worrell – Free Agent
1997 Various Artists – Live on Letterman: Music from the Late Show
1997 Bootsy Collins – Fresh Outta "P" University
1997 Big Head Todd & the Monsters – Beautiful World
1997 Marisa Monte – Great Noise
1997 Various Artists – Best of Acid Jazz, Vol. 2
1997 Robben Ford – Tiger Walk
1997 Ruth Copeland – Self Portrait/I Am What I Am
1997 Gota – It's So Different Here
1997 Aiyb Dieng/Bill Laswell – Rhythmagick
1997 Jesse Rae – Compression
1997 Various Artists – Rock and Roll Hall Of Fame 12th Annual Induction Dinner
1997 Jack Bruce – Sitting on Top of the World
1997 Various Artists – Black Night: Deep Purple Tribute
1997 Nicklebag – Mas Feedback
1996 Randy Crawford – Best of Randy Crawford
1996 T.M. Stevens Out of Control – Boom
1996 Various Artists – Casablanca Records Greatest Hits
1996 Manu Dibango – Bao Bao
1996 Various Artists – This Is Acid Jazz: New Voices, Vol. 3
1996 Jonas Hellborg/Niels Jensen/Bill Laswell – Ordinary Day
1996 Arto Lindsay – "Mundo Civilizado"
1996 Spin Doctors – "You've Got to Believe in Something"
1996 Various Artists – Myth, Dreams of the World
1996 Marisa Monte – Barulhinho Bom
1996 Bernie Worrell – This Is What You Should've Had
1996 Various Artists – Red, Hot, & Cool
1996 T.M. Stevens – Sticky Wicket
1996 T.M. Stevens – Black Night (Deep Purple Tribute)
1996 Fred Wesley – Swing & Be Funky
1996 Cibo Matto – Viva! La Woman
1996 George Clinton & The P-Funk All Stars – TAPOAFOM
1996 Third Rail South – Delta Space Age
1996 Parliament – Tamurinillis
1996 Various Artists – A Sweet Taste of Westbound
1996 Nickle Box – Twelve Hits and a Bump
1996 Pharaoh Saunders – Message From Home
1996 Lucky Peterson – Lifetime
1996 T.M. Stevens – Boom
1996 Funkadelic – Meadowbrook 1971
1995 Yo Yo – Honey
1995 Bootsy's New Rubber Band – Keepin' Dah Funk Alive 4-1995
1995 Mike Watt – Ball, Hog Or Tugboat?
1995 Various – Axiom Ambient
1995 Xperience – P Spot
1995 Mutiny – Aftershock 2005
1995 David Steele – I Feel Liberal, Alright
1995 Aiyb Dieng – Rhythm Magick
1995 Parliament/Funkadelic – Mothership Connection/Newberg Sessions
1995 Tamio Okuda – 29
1995 Jack Bruce – Monkjack
1995 Randy Crawford – Naked & True
1995 Various Artists – In From The Storm
1995 Axiom Funk – Funkcronomicon
1995 Bootsy's Rubber Band – Live At Jungle Bass
1995 DJ Quik – Safe & Sound
1995 Jah Wobble – Heaven and Earth
1995 Dave Stewart – Greetings from the Gutter
1995 Various Artists – Big Bang
1995 Various Artists – I Heard It Through The P-Vine
1995 Julian Schnabel – Every Silver Lining Has a Cloud
1995 George Clinton & ParliaFunkadelic – Tamurinillis
1995 Parliament – Best of Parliament: Give Up the Funk
1995 George Clinton – Sample Some Of Disc, Sample Some Of Dat Vol. 3
1995 Soundtrack – Panther ("Freaked")
1994 Soundtrack – Friday ("You Got Me Wide Open")
1994 Soundtrack – Car 54, Where are You?
1994 Various Artists – Big Bang: In the Beginning Was a Drum
1994 White Trash – Si O Si, Que?
1994 Icehouse – Full Circle
1994 Parlet – Best of Parlet
1994 Marisa Monte – Mais
1994 Various Artists – Kwanzaa Music: Celebration of Black Cultures in Song
1994 Eddie Hazel – Jams From The Heart
1994 Jack Bruce – Cities of the Heart
1994 Various Artists – Jazz, Funk & Composers of Distinction
1994 Holy Terror – The Last Poets
1994 Yothu Yindi – Freedom
1994 Various Artists – Star Funk, Vol. 12
1994 Various Artists – Straight From Da Streets Volume 1: Increase The Peace
1994 Various Artists – Phat Trax: The Best Of Old School Volume 3
1994 Various Artists – Phat Trax: The Best Of Old School Volume 2
1994 Various Artists – Phat Trax: The Best Of Old School Volume 1
1994 Various Artists – Casablanca Records Story
1994 Touré Kunda – Dance of the Leaves
1994 Various Artists – Stolen Moments: Red Hot + Cool
1994 Material – Hallucination Engine
1994 P-Funk Guitar Army – Tribute To Jimi Hendrix Volume I
1994 Horny Horns – The Final Blow
1994 Groove Collective – Groove Collective
1994 Various Artists – Jazz, Funk & Composers
1994 Marisa Monte – Rose & Charcoal
1994 George Clinton – Hey Man, Smell My Finger
1994 George Clinton & The P-Funk All Stars – P-Funk Unreleased Remix
1993 Parliament/Funkadelic – Live 1972-1993 [European Release]
1994 Disciples of Christ – Righteous Funk
1994 Fuzzy Haskins – A Whole Nother Radio Active Thang
1994 Dave Stewart – "Cool Nights"
1994 Dave Stewart – "Peace in Wartime"
1994 Dave Stewart – Greetings from the Gutter
1994 Love I.K.O. – Head Turner
1994 K. Dee – Ass, Gas or Ash
1994 Funkadelic – Hardcore Funk Jam
1994 Funkadelic – The Best Of Funkadelic: 1976-1981
1994 Praxis – Sacrifist
1994 Bootsy Collins – Back In The Day: The Best Of Bootsy
1994 George Clinton – George Clinton's Family Series, Vol.5: A Fifth Of Funk
1994 George Clinton – George Clinton's Family Series, Vol.4: Testing Positive 4 The Funk
1993 George Clinton – Sample Some Of Disc, Sample Some Of Dat Vol. 2 1993 George Clinton – Sample Some Of Disc, Sample Some Of Dat Vol. 1
1993 Bootsy's New Rubber Band – Blasters Of The Universe
1993 P-Funk All Stars – Dance On The Wild Side
1993 P-Funk All Stars – Ultimate P-Funk Breaks
1993 Zoopadelica – The Life & The Times of One Chocolate Baby
1993 Color Me Badd – Time & Change
1993 Various Artists – History of Funk: In Yo' Face Volume 5
1993 Various Artists – History of Funk: In Yo' Face Volume 4
1993 Various Artists – History of Funk: In Yo' Face Volume 3
1993 Various Artists – History of Funk: In Yo' Face Volume 2
1993 Various Artists – History of Funk: In Yo' Face Volume 1
1993 Tashan – For The Sake Of Love
1993 Electric World – Life=Love
1993 Golden Palominos – This Is How It Feels
1993 Anton Fier – Dreamspeed
1993 Audio Assault Squad – Comin' Up Outta This Bitch
1993 Manu Dibango – Bao Bao
1993 Jungle Brothers – J. Beez Wit The Remedy
1993 Pharaoh Saunders – The Spin
1993 Bernie Worrell – Blacktronic Science
1993 Nokko – Call Me Nightlife
1993 Umar Bin Hassan – Be Bop Or Be Dead
1993 Aisha Kandisha – Shabeesteion
1993 Bernie Worrell – Pieces of WOO/The Other Side
1993 Material – Live In Japan
1993 Westbound Funk – Gettin' It Off
1993 Fernando Saunders – The Spin
1993 Color Me Badd – Time And Chance
1993 Parliament/Funkadelic – Live 1972-1993 [US Release]
1993 Parliament/Funkadelic-P-Funk All-Stars – Dope Dog [U.S. Release]
1993 Parliament – Tear The Roof Off: 1974-1980 [2CD]
1993 Malcolm X – Stop The Confusion
1993 O.G. Funk – Out Of The Dark
1993 Zillatron – Lord Of The Harvest
1993 Black Uhuru – Liberation: The Island Anthology
1993 Bill Laswell – Deconstruction: Celluloid Recordings
1993 Umar Bin Hassan – Be Bop or Be Dead
1993 Warren Haynes – Tales Of Ordinary Madness
1993 Material – Hallucination Engine
1993 Aisha Kandisha's Jarring Effects – Shabeesation
1993 Funkadelic – Music For Your Mother
1993 George Clinton – George Clinton's Family Series, Vol.3: P Is The Funk
1993 George Clinton – George Clinton's Family Series, Vol.2: Plush Funk
1992 George Clinton – George Clinton's Family Series, Vol.1: Go For Your Funk
1992 Talking Heads – Popular Favorites 1976-1992: Sand in the Vaseline
1992 Talking Heads – Best of Talking Heads: Once In a Lifetime (Import)
1992 Johnnie Johnson – Johnnie B. Bad
1992 Yoko Ono – Walking on Thin Ice
1992 Suzanne Rhatigan – To Hell with Love
1992 Deee-Lite – Infinity Within
1992 Yoko Ono – Onobox
1992 Deadline – Dissident
1992 Funkadelic – Picture CD Box Set Volume 2
1992 Funkadelic – Picture CD Box Set Volume 1
1992 Soundtrack – Young Soul Rebels
1992 Golden Palominos – History (1986-1989)
1992 Golden Palominos – History (1982-1985)
1992 Praxis – Transmutation
1992 Deee-Lite – Infinity Within
1992 Parliament – First Thangs
1992 Last Poets – Retro Fit
1992 Eye & I – Eye & I
1992 Masabumi Kikichi – Dream Machine
1992 Bahia Black – Ritual Beating System
1992 Robert Musso – Active Resonance
1991 Marisa Monte – Mais
1991 Bernie Worrell – "Poppa Chubby"
1991 State of Art – Community
1991 Material – The Third Power
1991 Momma Stud – Cry For Freedom
1991 Psychefunkapus – Skin
1991 Johnnie Johnson – Johnnie B. Bad
1991 Parliament – The Best NonStop Mix Compilation
1991 Momma Stud – Cockadoodledo
1991 Hepfidelity – Diesel
1991 Material – Third Power
1991 Mais – Marisa Monte
1991 Fred Schneider & the Shake Society – Fred Schneider
1991 Various Artists – Illuminations: An Axiom Compilation
1990 Parliament – Trombipulation
1990 Momma Stud – Cockadoodledoo
1990 Bootsy's Rubber Band – Jungle Bass
1990 Bernie Worrell – Funk Of Ages
1990 Hunkpapa – Throwing Muses
1990 Parliament – Rhenium
1990 Various Artists – Gramavision 10th Anniversary Sampler
1990 Stevie Salas – Colorcode
1990 Ginger Baker – Middle Passage
1990 Something Special – Something Special
1990 Niels & New York Perc. – Niels & New York Perc.
1990 Deee-Lite – World Clique
1990 P-Funk All Stars – Live at the Beverly Theatre
1990 Maceo Parker – For All The Kings Men
1990 Jerry Harrison – Walk on Water
1980s
1989 Golden Palominos – A Dead Horse
1989 Jack Bruce – A Question of Time
1989 Syd Straw – Surprise
1989 Throwing Muses – Hunkpapa
1989 Menace – Doghouse
1989 Mannequin – Same
1988 Bootsy Collins – What's Bootsy Doin'?
1988 Z Looke – Take U Back To My Place
1988 Afrika Bambaataa – The Light
1988 Various Artists – Downtown
1988 Fool Proof – No Friction
1989 Golden Palominos – A Dead Horse
1989 Jack Bruce – A Question of Time
1989 Syd Straw – Surprise
1989 Throwing Muses – Hunkpapa
1989 Menace – Doghouse
1989 Mannequin – Same
1988 Bootsy Collins – What's Bootsy Doin'?
1988 Z Looke – Take U Back To My Place
1988 Afrika Bambaataa – The Light
1988 Various Artists – Downtown
1988 Fool Proof – No Friction
1988 Woodentops – Wooden Foot Cops on the Highway
1988 George Clinton – Atomic Clinton!
1988 Drivin' & Cryin' – Whisper Tames The Lion
1988 Keith Richards – Talk Is Cheap
1988 Jonas Hellborg – Bass
1987 Jerry Harrison – Casual Gods
1987 Manu Dibango – Afrijazzy
1987 Bob Pfeifer – After Words
1987 Jesse Rae – The Thistle
1987 Victoria Williams – Happy, Come Home
1987 Mico Wave – Cookin' From The Inside Out
1987 Chris Stamey – It's Alright
1987 Ryuichi Sakamoto – Neo Geo
1987 Sly & Robbie – Rhythm Killers
1987 Little Steven – Freedom, No Compromise
1987 Nona Hendryx – Female Trouble
1986 Ginger Baker – Horses And Trees
1986 Gwen Guthrie – Good to Go Lover
1986 Matthew Sweet – Inside
1986 Pretenders – Get Close
1986 Touré Kunda – Natalia
1986 Bernie Worrell – This Time You Lose
1986 The Golden Palominos – Blast of Silence
1985 Fela Kuti – Army Arrangement
1985 Mtume – Juicy Fruit
1985 Zapp – New Zapp IV U
1985 Jesse Rae – Party Crackers
1985 Time Zone – World Destruction
1985 Jesse Rae – Over The Sea
1985 Manu Dibango – Electric Africa
1985 Nona Hendryx – The Heat
1985 Parliament/Funkadelic – Mothership Connection (Live)
1985 Public Image Ltd. – Album
1985 Yoko Ono – Starpeace
1985 Jonas Helborg – Axis
1985 Deadline – Down by Law
1985 Sly & Robbie – Language Barrier
1985 Golden Palominos – Visions of Excess
1984 Gil Scott-Heron – Best of Gil Scott-Heron
1984 Time Zone – World Destruction
1984 Gil Scott-Heron – Re-Ron
1984 Last Poets – Oh My People
1984 Lee Fields – Shake It Lady
1984 Parliament – Parliament's Greatest Hits
1984 Fred Schneider – Shake Society
1984 Fred Schneider – Fred Schneider
1984 DST – Mean Machine
1984 Talking Heads – Stop Making Sense
1984 Kiddo – Action
1984 Nona Hendryx – The Art Of Defense
1984 Anthem – Black Uhuru
1984 Army Arrangement – Fela Anikulapo Kuti
1984 Mtume – You, Me and He
1984 Gil Scott-Heron – Best of Gil Scott-Heron
1983 Something Special – Something Special
1983 Various Artists – Best of Music & Rhythm
1983 George Clinton – You Shouldn't-Nuff Bit Fish
1983 New Horizons – Something New
1983 Talking Heads – Speaking In Tongues
1983 Black Uhuru – Anthem
1983 Gwen Guthrie – Portrait
1983 Paul Haig – Rhythm of Life
1983 Mtume – Juicy Fruit
1983 Nona Hendryx – Nona
1983 Rita Coolidge – Never Let You Go
1982 Elusion featuring Limon – Show and Tell
1982 Stephanie Mills – Tantalizingly Hot
1982 Ron Dunbar – These Feets Were Made For Dancin'
1982 LJ Reynolds – Travelin'
1982 Revelation – Same
1982 Marc Sadane – Exciting
1982 Bootsy Collins – The One Giveth, The Count Taketh Away
1982 George Clinton – Computer Games
1982 Jesse Rae – Rush
1982 Melon – Do You Like Japan
1982 The O'Jays – My Favorite Person
1982 Talking Heads – The Name of this Band Is Talking Heads
1981 Space Cadets – Space Cadets
1981 Shango – Shango Funk
1981 Mtume – You, Me and He
1981 Jerry Harrison – The Red And The Black
1981 David Byrne – Catherine Wheel
1981 Spinners – Can't Shake This Feelin'
1980 Bootsy – Ultra Wave
1980 Parliament – Trombipulation
1980 Philippe Wynne – Wynne Jammin'
1980 Busta Jones – Self-Titled
1980 Five Special – Special Edition
1980 Sweat Band – Sweat Band